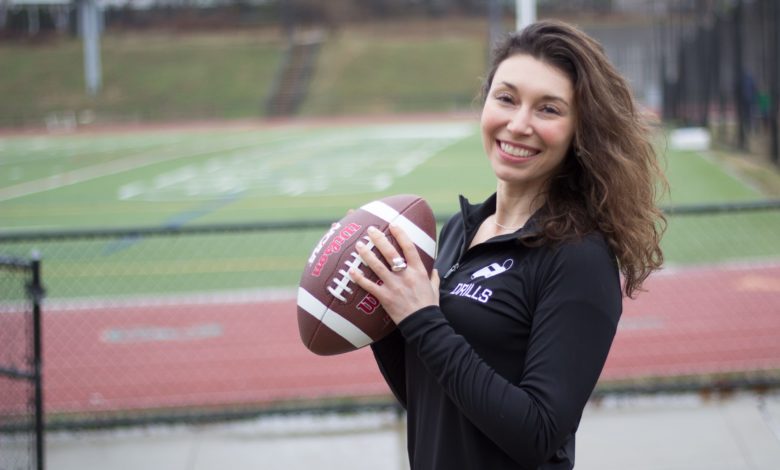 Football can be a great way to workout. It's fun, sporty and can help improve your football skills. At the end, you don't even realize you're working out. It's for this reason that Danielle Chelminsky is passionate about helping adults in their 20s, 30s, and even 40s, who want to get fit, or just want to try something new to mix up their workout routine and cross-train in a fun, sports-based environment. We had an opportunity to interview Danielle and asked about her story, how she started her business and the future of Drills Practice.
What's your story? Tell us your background and why you decided to start your business? 
 I played sports growing up, and I remember the practices were really intense workouts! When I graduated, I started working out in local gyms and doing spin, Pilates, barre classes, I ran a marathon, and I go lots of different high intensity interval training (HIIT) classes. I love trying new types of workouts, and now am a barre instructor at a local studio and have taught circuit training classes, and I love that DC has a big workout culture. There is also a big rec league culture here, and I played on a flag football rec league for a few seasons. That's when I thought – what if we combined HIIT/circuit training classes with rec sports like flag football? When you are playing sports, you don't even realize you are working out or running around since its more fun! I had a friend who said, "I hate running, but if you throw a ball at me Ill run sprints all day!" And that's when I decided to develop DRILLS Practice – a workout program based on football drills!
 Tell us a little about your products and services
 DRILLS Practice is a new way to work out by taking the intensity and skill-building aspects of professional football training, and tailoring it as a workout for adults at all skill levels and abilities. The workouts integrate football-based strength and conditioning exercises, with traditional flag football drills.  Experienced football coaches incorporate route runs, coverage, footwork, and speed and agility drills, to improve your fitness and athleticism. These workouts are perfect for those looking for a new, intense, non-traditional workout, and for those in recreational flag football leagues looking to improve their game.
How is the program structured?
Each DRILLS Practice workout is broken into three sections:
Strength and Conditioning: Dynamic high-intensity interval training (HIIT), and speed and agility work. This may include:

Sprints
Cone drills
Agility ladder
Hurdles
Resistance bands
Other HIIT exercises and core strengthening

Technical Skill Building: Improving specific aspects of the game to make you a better athlete and player. DRILLS Practices will be split into:

Defensive drills: Coverage, footwork, etc…
Offensive drills (with flags): Running routes, passing
One-on-ones (with flags): Match ups with another player at your same size and level

Scrimmage: Each workout will end with a flag football scrimmage so you can apply your skills to a game.
What makes it unique and structured? 
 Experienced Coaches: Unlike other boutique workout programs and bootcamp classes, at a DRILLS Practice, you will have actual football coaches designing and running the workouts. Our coaches have played at the collegiate level, and coach local high school and college athletes – some of which have had successful careers in the NFL. DRILLS Practice also has a strength and conditioning specialist who have trained elite athletes nationwide. Participants get the attention, advice, and expertise of experienced coaches, based on their specific level and skillsets, while getting an intense, full body workout. 
Combine assessment: Another unique aspect of DRILLS Practice is the combine assessment, where the coaches will test and measure your 40-yard dash, 20-yard shuttle, 3-cone drill, and long jump so you can track your performance progress over time.Plus it pushes people to compete with themselves, and push themselves to see the results in the data.
 Who are the type of people that would be interested in this? 
 DRILLS Practice participants range from people with no formal football experience looking for a new way to work out, to those who played college football and miss those types of workouts and want to be back on a field.
Typically, DRILLS Practice participants are adults in their 20s, 30s, and even 40s, who want to get fit, or just want to try something new to mix up their workout routine and cross-train in a fun, sports-based environment. Some participants have played football before in college or high school, some have played in flag football recreation leagues, and some have never played football before. The DRILLS coaches will match you with someone at your size and level for the one-on-ones, so everyone gets the most out of the workout.
What makes it unique about being a Healthy CEO? 
I have a Masters in Public Health from the George Washington University, and believe exercise is a key piece of overall health and disease prevention. I am in the business of being a health professional. The mission of DRILLS Practice is to provide a new way for people to improve their fitness in a fun, sports-based environment, and push themselves doing a sport they love.
What makes the DMV (D.C., Maryland & Virginia) area a great place to be an entrepreneur or business owner?
 As mentioned above, DC has a vibrant workout and fitness culture, and people here are always looking for new ways to workout, so it's a great market for creating a new fitness program. DC also has a lot of high-achieving and competitive personalities, who want data and goals as part of their workouts, and want to be coached to improve every aspect of their lives, including sports. I wanted DRILLS Practice to be football-based since there is such a strong football culture here, both for NFL and college football fans, and also people who play in rec leagues.
Anything additional to tell our readers or listeners? 
 Registration for the Men's Spring 2018 Program is now open. The program will run for 9 weeks on Sunday mornings (75 minutes each) at Wakefield High School football stadium in Arlington, VA, in partnership with Arlington County Parks and Rec, from April 22- June 24th 2018. Go towww.drills-practice.com/sign-up The registration fee is $199 for all 9 workouts and includes a free performance T-shirt and local discounts.
There will be a trial practice on April 7th at 3:30pm in DC if you want to try out a practice before signing up for the whole program. Get your ticket here:https://trialdrillspractice-april7.eventbrite.com/ There's also a referral program if you refer a free you get a Modell's gift certificate, and if you refer 3 friends you get a DRILLS sweatshirt!
How can our readers or listeners get in touch with you? 
Facebook.com/drillspractice
Instagram @drillspractice
Look out for our YouTube video of the podcast interview