Woodbridge Smiles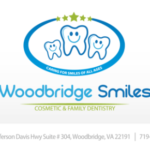 Business Name:
Woodbridge Smiles
Long Business Description:
Your Dentists at Woodbridge Smiles specialize in creating custom solutions for your dental needs. We take every case individually. We listen to you to understand your oral care needs, then we'll discuss available options with you on how to best enhance your smiles. With so many advances in the field of dentistry, you have more options than ever before. We think you deserve the best, personalized care available.
Woodbridge Smiles is proud to provide comprehensive dental services that cover all aspects of your oral and dental health.
14904 Jefferson Davis Hwy., Suite #304
Woodbridge, Virginia 22191