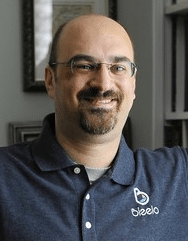 Name: Ron Schmelzer
Business name: Bizelo
URL to website: http://www.bizelo.com
Twitter: @Bizelo
Facebook: http://www.facebook.com/bizelo
First, Baltimore is relatively small in size and a smaller economy compared to others in its region is both a plus and a minus. It's much easier here to get visibility in front of the local market, media, and customers. The region has significant strength in education, health, government (especially around security), and hospitality. There are some major universities and schools here pumping out not only great talent but also investment and connections, so that's a plus. But, the city often plays second (or third) fiddle to other cities as far as attracting software technical talent, venture capital and angel investment, acquisitions, and national press attention.
Related Post: Startup College and Universities in D.C., Maryland & Virginia
Despite this, the best way to be a Baltimore-based company is to participate in the whole 'Lower Acela' corridor region. We often participate in DC, Philly, and New York networking and investment events. We position ourselves as a regional player rather than as a Baltimore-only startup. I think this region (Mid-Atlantic to NY) has significant strength and that Baltimore companies are well served to be an active participant across the whole region.
Brief Biography
Schmelzer is the founder, visionary, and instigator behind Bizelo. Besides being passionate about solving small business problems, Schmelzer is a parallel entrepreneur, having started and sold a number of successful Internet and technology businesses. Schmelzer founded and ran ZapThink, an industry analyst firm focused on Service-Oriented Architecture (SOA), Cloud Computing, Web Services, XML, and Enterprise Architecture, and which was later acquired by Dovel Technologies in July 2011. He also founded and was CTO of ChannelWave, a successful enterprise software company which raised over $60M in VC funding and was subsequently acquired by Click Commerce in 2005.