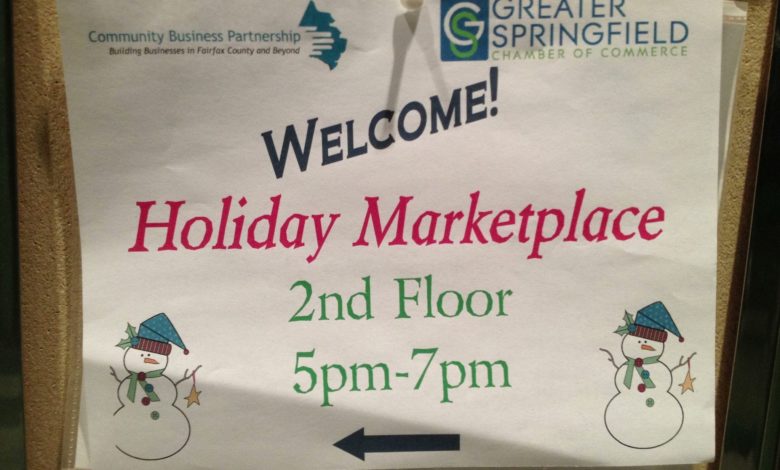 100 entrepreneurs and business owners from across the DMV attended the Annual Holiday Mixer presented by the Community Business Partnership (CBP) and co-sponsored by the Greater Springfield Chamber of Commerce. The event which lasted from 5 pm to 7 pm  celebrated the CBP staff, partners and local small business owners. Attendees were also able to purchase gifts from vendors, enter to win a X-Box 360, and try various foods ranging from egg rolls to rum cake to homemade fudge and then wash it all down with some wine.
The Director of the Business Incubation Center Charles W. McCaffrey who juggles studies as a George Mason University MBA student and his consulting firm, explained that event was not the typical event and was "less business related and more of a holiday party for all" in celebration of clients and anticipate the upcoming year.Although it wasn't a typical event, entrepreneurs and business owners attend the event with their own specific goals in mind. For some like Michael H. Drobnis the owner of OptifinITy and the 2013 President of the Springfield Chamber of Commerce, the event was an opportunity to meet entrepreneurs, but most importantly he hoped to "build relationship" and connect people with their needs. For other entrepreneurs like Meghan Baroody, the founder of Meggrolls, it was a perfect time to give out free samples of a few of her 26 different flavors of egg rolls.
A few years removed from being laid off from her position, Victoria Dade showcased her array of cakes and sweets for what was her first public event. After losing her position and at the encouragement of her friend she decided to stop "giving her cakes away" to family, friends and co-workers as she had done for years and launch her business Kona Kakes. During the height of the recession, Dade took a few classes at the Community Business Partnership on Financing, Grants and Loans for businesses and also took classes at the Virginia Employment Commission and it laid the foundation for her business.
While the event featured delicious food, entrepreneurs and business owners were also able to do much needed holiday shopping and purchase gifts for friends and loved ones from over 20 businesses including Crafted by Joyce, Faye Lone designs, Needles in Motion, Harper Gift Baskets, Medina Ceramics, Step Outside the Jewelry Box, Nica Girl Skin Care, Row Ties and Traci Lynn.
The Community Business Partnership, a 501(c)3 non-profit was created in 1995 and continues to provide resources and support for entrepreneurs. This year it is expected that the Community Business Center has serviced about 4,000 clients with a staff of only 6 in numerous ways including holding over 350 classes, providing counseling services and event accommodating virtual clients.