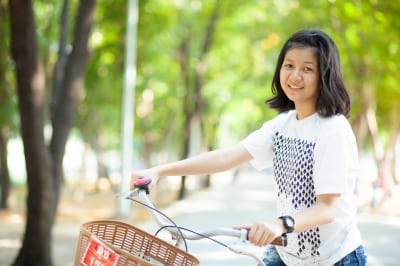 Parents can understand the importance of finding activities for their children. These activities can help both children and parents learn the importance of staying active and learning lessons. The only downside is the stress and time it takes to actually find the right activities. For Danielle Larkins, founder of tiny-trots, helping put all the information in one place was a must. We sat down with Danielle to learn more about her business and why the DMV is such a great place for entrepreneurs.
Tell us about your background and what led you to start your business
Before having kids, I was a mental health counselor for Inova Health Care's EAP (Employee Assistance Program). After having my first son, I decided to become a stay-at-home mom. I was one of the first of my friends to have kids and was out-of-the-loop in the DC area's mommy community. My Google searches for kid-friendly classes, activities, and events were time-consuming – so I decided to create a free online family resource that housed all that information. While my two boys were climbing the walls in the summer of 2013, tiny-trots was born.
Tell us about your business
tiny-trots, LLC is an online family resource providing DC area families with kid-friendly happenings. You can access a variety of outdoor and indoor activities, classes, and events. I spare you the time consuming searches because I know one of the last things moms have is time! On tiny-trots you can also find my blog, Where's the Mama. I love writing about parenting, local businesses, my crafty attempts, and everything-mommy.
What advice would you give to aspiring entrepreneurs and business owners?
I have three pieces of advice: 1) Set yourself apart from your competition. This will give you an edge and a smaller hill to climb. 2) Be consistent with your marketing. 3) Network your tail off and find supportive, successful mentors in your industry who can guide you along the way.
Where do you see your business in the next 5 years?
I see tiny-trots becoming one of the top go-to resources for families in the DC metro area and Where's the Mama being a popular and well-regarded blog in the DC momasphere.
Why is the DMV (DC, Maryland & Virginia) a good place to be an entrepreneur?
The DMV has a large population with lots of knowledgeable, successful, and professional individuals. I believe these factors make it a great environment for an entrepreneur. There is easy access to a large population base, and the population has the means to purchase what you're offering them. And finally, having access to a swath of knowledgeable professionals in various industries allows aspiring entrepreneurs to establish a robust network for support. This network is critical to the success of a fledgling business.